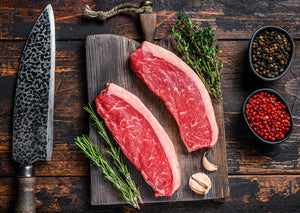 1.1 - 1.4kg Dry Aged Picanha Steaks | Limited Stock
Sale price Price €25,50 Regular price Unit price / per
Tax included.
The sirloin rump cap, also known as "Picanha", is a rare cut that we've dry aged in Achill Island Sea Salt for 21 days.  It comes as 1 full joint in a vacuum sealed bag that will last in your fridge for up to 8 days unopened and will feed approx. 4-5 people.
A popular delicacy in Brazil, it's traditionally cooked rotisserie style on the BBQ, allowing the layer of fat on top to render and baste the meat while it cooks giving it the unique, succulent flavour that it's famous for. 
Click here for cooking instructions.
We only have 12 in stock so get in early!
This will last for up to 8 days in your fridge, and while it is suitable for homefreezing, we  think it taste's much better fresh.