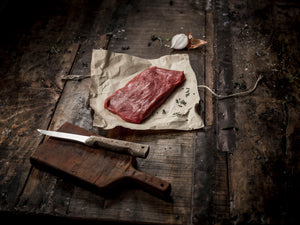 Flat Iron Steak 8oz x 2
Sale price Price €10,00 Regular price Unit price / per
Tax included.
2 dry-aged, award winning flat iron steaks per pack.
These steaks are cut from grass fed beef from our family farm, then hand-trimmed to give them exceptional quality and flavour before being salt-aged in achill island sea salt for 21 days.
They come vacuum packed, sealing in the moisture, freshness and flavour of our beef and will last in your fridge for 7 days. They are also suitable for homefreezing.