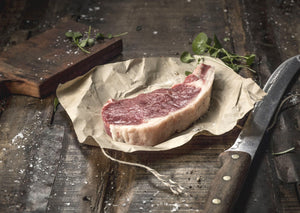 Striploin Steak Dry-Aged in Achill Sea Salt
Sale price Price €13,01 Regular price Unit price / per
Tax included.
These are sold as 2 10oz dry-aged striploin steaks in one pack or 1 thickly cut, 16oz dry-aged striploin steak per pack.
These steaks are cut from the finest beef from our family farm, then hand-trimmed to give them exceptional quality and flavour before being salt-aged in achill island sea salt for a minimum of 21 days.
This will last for up to 8 days in your fridge, and while it is suitable for homefreezing, we  think it taste's much better fresh.