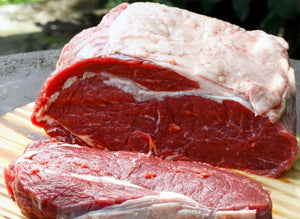 2.5kg Full Beef Striploin Joint
Sale price Price €70,30 Regular price Unit price / per
Tax included.
This whole beef striploin will create the ultimate Sunday roast - with lots of leftovers for sambos or salads!
Our 2.5kg striploin joint is a succulent, premium cut that's been dry aged in Achill Island sea salt for 40 days to create an exceptional, elegant flavour. This whole striploin makes a great centerpiece on the table and will feed 8-10 people if roasted in the oven.
Or, alternatively, you could cut some of it into striploin steaks (choosing a thickness to your liking) and roast the remaining piece.
It comes as 1 full striploin joint in a vacuum sealed bag that will last in your fridge for 10  days unopened. It is suitable for homefreezing, we  think it taste's much better fresh.